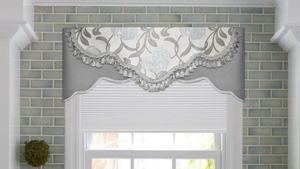 Custom Valance Kits - No Sewing!
Traceable Designer patented no-sew valance Design Forms are more versatile and easier than sewing! Create perfectly shaped valances without sewing. No-sew custom valances are fully lined and look professionally designed. Adjust panels on a standard curtain rod for a custom fit without the need for tedious perecise measuring!
Traceable Designer home decor kits include multiple valance styles, are reusable for unlimited no-sew decorating, and include matching table decorating Design Forms.
Style-specific video tutorials located on YouTube. Traceable Designer - YouTube
Multi-Style No-Sew Cornice-Valance Kit
Multi-Style Cornice Valance Kit includes scalloped, arched, and straight valance styles with matching table runners, placemats, centerpiece mats, and dresser scarves. Fit all window sizes. Hang using a 2-1/2" wide pocket curtain rod.
Shop Now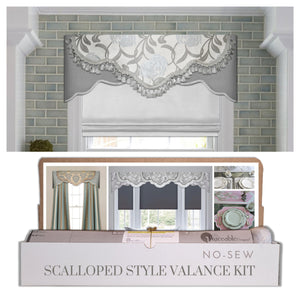 Single-Style Cornice Valance Kits
Traceable Designer cornice valance styles are available as style-specific no-sew home decorating kits that include a single valance style and matching table decorating.
Shop Now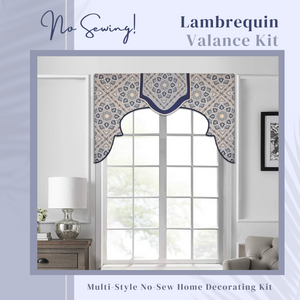 Multi-Style No-Sew Lambrequin Valance Kit
Multi-Style Lambrequin Valance Kit includes ornate-scalloped, arched and straight styles with matching table accents. Easily adjust side panels to cover your window frame. Versatile valance designs fit all window sizes and styles.
Shop Now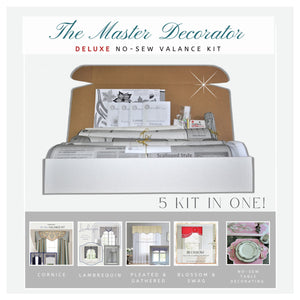 Deluxe Multi-Style No-Sew Valance Kit
Deluxe Master Decorator Home Decor Kit includes all Traceable Designer valance styles and matching table accent styles. Transform your home into a designer showplace with impressive designer no-sew valances and table accents!
Shop Now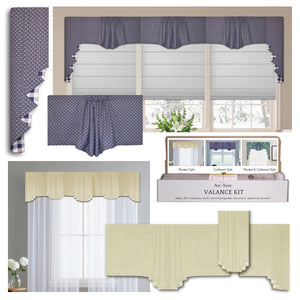 Multi-Style No-Sew Pleated & Gathered Swag Kit
Make professional-looking pleated swag valances without sewing! No-sew pleated & gathered swag valance kit includes unique interchangeable panel styles for super-easy custom sizing! Fit all window sizes and styles including bay windows.
Shop Now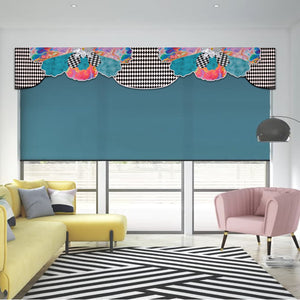 Multi-Style No-Sew Scarf & Blossom Valance Kit
Multi-Style scarf & blossom valance kit includes a versatile scalloped valance base panel. Create designer scarf and flower blossom connecters to enhance your designs. Also included is a giant wildflower valance panel. Use as a single-panel valance or hang with scalloped side panels for a cornice-style valance. Create stunning mixed media designs or use subtle fabrics for more traditional or farmhouse styles.
Shop Now
Traceable Designer Valance Kits
---